Accommodation prices
The rent varies from DKK 2800 for the smallest room to DKK 4850 for a double room. The rent for most of the rooms is DKK 3250,- inclusive water, heating, electricity, soap, cleaning productsand Wifi.
Description of the accommodation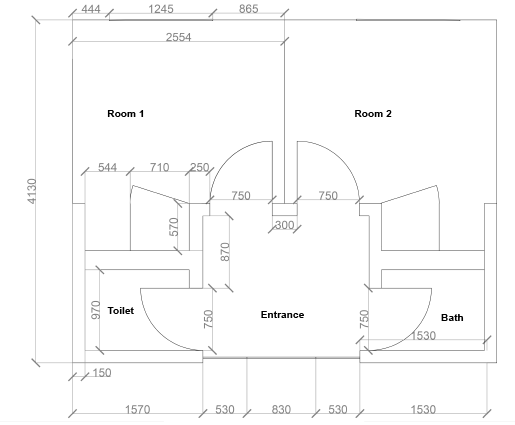 The college consists of a two-story building (rooms 1-62), and two other annexes (rooms 64-71 and 76-80), a total of 74 rooms altogether.

Rooms 1 to 62 (inclusive)
You have your own room. The room is approx. 15 m². It contains a built-in wardrobe with a door and full-length mirror, and a washbasin. You will share a toilet, shower and small hallway with another resident. Each room is furnished with a wardrobe. You can borrow a bed, thair and table if necessary. You will need to supply your own duvet and pillow. All rooms have single beds, (W: 90 cm / L: 200 cm / H: 31 cm).
The Annex (rooms 64-71 inclusive)
This part of the college is different from the other parts. Here, 8 residents share a kitchen and toilet and shower. There are 3 bathrooms in this wing.
The rooms contain a wardrobe and standard inventory (bed, desk, chair, reading lamp and waste paper basket). You will need to supply your own duvet and pillow.
IMPORTANT
Please bring your own sheets, duvet, duvet cover, pillow, pillowcase, etc.
You can buy these and any other furniture you may need at IKEA, which is only one stop away by S-train (underground).
The rooms can be rented for periods of 6 months or longer provided that the tenant fulfils the rental conditions.